BARBALALA
Available
sex: female
color: seal bicolour

class: show & breeder
born: 13.04.2023
age: 3 months old
sweetness evaluation (1-5): ❤️❤️❤️❤️❤️
pedigree FIFe
father: MEFISTO
mother: Koc-Pol Cat Panna Migotka
*photo: 07.07.2023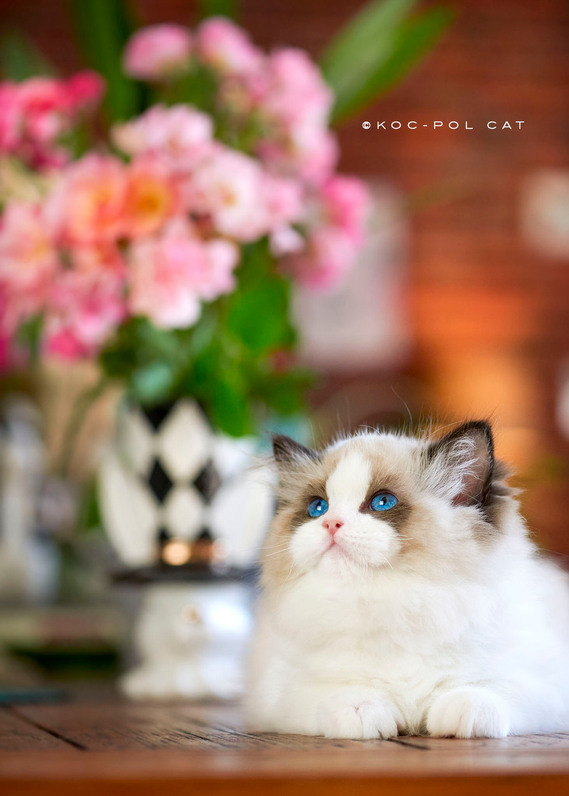 Meet Barbalala: The Epitome of Beauty and Sweetness
Allow us to introduce you to the extraordinary Barbalala, an exquisite kitten who embodies the extreme characteristics of a Ragdoll cat. Barbalala possesses a short yet sturdy body structure, making her truly unique. With her stunning head and deep blue eyes, she captivates everyone who lays eyes on her. Her perfectly distributed color pattern and symmetrical markings make her the epitome of perfection in both coloration and coat.
Barbalala is a kitten that appeals to the discerning breeder and connoisseur, one who is aware of their choice. Adding Barbalala to a breeding program will undoubtedly bring exceptional qualities rarely seen in other Ragdolls. She stands out in every aspect and possesses outstanding traits that are truly remarkable.
Not only is Barbalala extraordinarily beautiful, but she also possesses a gentle and affectionate nature. Her sweet temperament and loving personality make her an ideal companion for those seeking a feline friend who will provide endless joy and companionship.
Barbalala's exceptional qualities extend beyond her physical appearance. She is intelligent, curious, and eager to explore her surroundings. Whether she's playing with toys, chasing after a dangling string, or simply lounging in the sun, she brings a sense of elegance and grace to everything she does.
As a Ragdoll, Barbalala also has the characteristic trait of being a wonderful lap cat. She loves nothing more than snuggling up with her human companions, purring softly and basking in their affection. Her presence brings comfort and a sense of tranquility to those fortunate enough to share their lives with her.
Barbalala is truly an outstanding kitten in every way imaginable. From her exceptional beauty to her delightful personality, she embodies the essence of what makes Ragdolls so beloved and sought after. She is a treasure that any discerning breeder or cat enthusiast would be proud to have in their lives.
If you are looking for an extraordinary feline companion, Barbalala is the perfect choice. Prepare to be enchanted by her exceptional qualities and let her bring endless joy and love into your home. Don't miss the opportunity to welcome this remarkable kitten into your life and experience the joy of having a truly exceptional Ragdoll like Barbalala by your side.
BARBALALA
backstage of a photoshoot :)
photo: 07.07.2023
sex: female
color: seal bicolour

class: show & breeder
born: 13.04.2023
age: 3 months old
*Important information. The eye color of the kittens in the video is distorted due to the phone's optics and the current lighting at the time of filming. The photos also do not perfectly reflect the eye color, which is why the kitten's eye color intensity on a scale of 1-6 is included in the description.
Our kittens receive:

FIFe pedigree
passport
are microchipped,
dewormed,
twice vaccinated + rabbis
have a health certificate with a current clinical examination and a package of tests (morphology, biochemistry, kidney ultrasound, felv / fiv test)
marked blood group
genetically tested lines: HCM result (n / n)
genetically tested lines: PKD result (n / n)